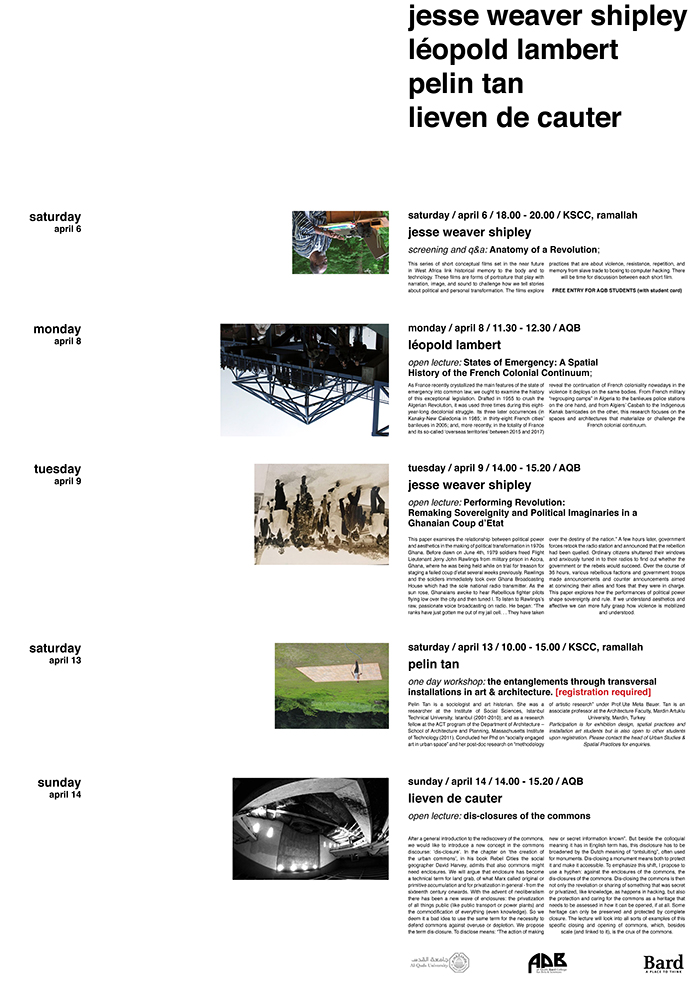 open lecture: LIEVEN DE CAUTER dis-closures of the commons
After a general introduction to the rediscovery of the commons, we would like to introduce a new concept in the commons discourse: 'dis-closure'. In the chapter on 'the creation of the urban commons', in his book Rebel Cities the social geographer David Harvey, admits that also commons might need enclosures. We will argue that enclosure has become a technical term for land grab, of what Marx called original or primitive accumulation and for privatization in general – from the sixteenth century onwards. With the advent of neoliberalism there has been a new wave of enclosures: the privatization of all things public (like public transport or power plants) and the commodification of everything (even knowledge). So we deem it a bad idea to use the same term for the necessity to defend commons against overuse or depletion. We propose the term dis-closure. To disclose means: "The action of making new or secret information known". But beside the colloquial meaning it has in English term has, this disclosure has to be broadened by the Dutch meaning of "ontsluiting", often used for monuments. Dis-closing a monument means both to protect it and make it accessible. To emphasize this shift, I propose to use a hyphen: against the enclosures of the commons, the dis-closures of the commons. Dis-closing the commons is then not only the revelation or sharing of something that was secret or privatized, like knowledge, as happens in hacking, but also the protection and caring for the commons as a heritage that needs to be assessed in how it can be opened, if at all. Some heritage can only be preserved and protected by complete closure. The lecture will look into all sorts of examples of this specific closing and opening of commons, which, besides scale (and linked to it), is the crux of the commons.


lecture & seminar series with: jesse weaver shipley / léopold lambert / pelin tan / lieven de cauter
open lecture: LÉOPOLD LAMBERT States of Emergency: A Spatial History of the French Colonial Continuum;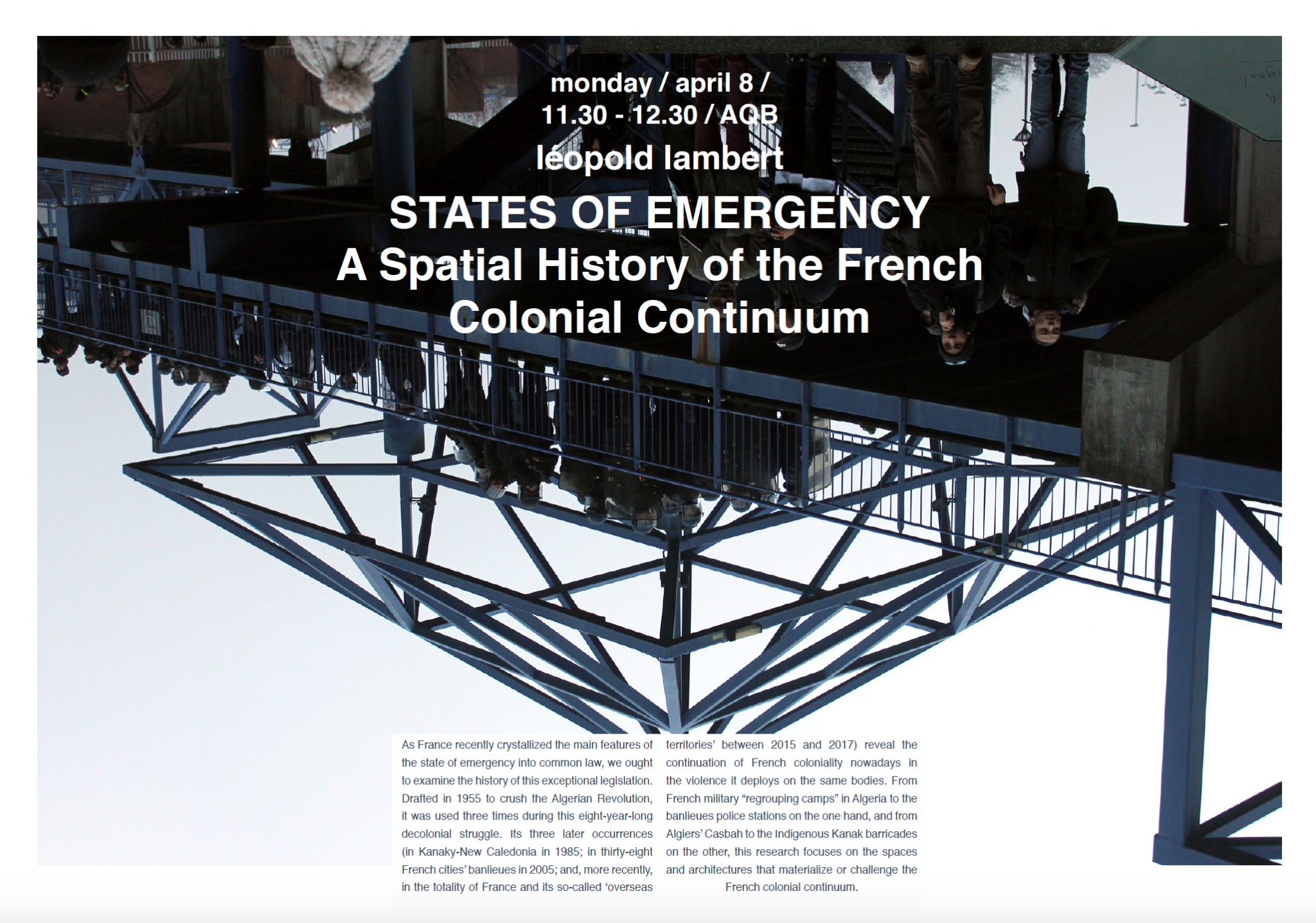 As France recently crystallized the main features of the state of emergency into common law, we ought to examine the history of this exceptional legislation. Drafted in 1955 to crush the Algerian Revolution, it was used three times during this eight-year-long decolonial struggle. Its three later occurrences (in Kanaky-New Caledonia in 1985; in thirty-eight French cities' banlieues in 2005; and, more recently, in the totality of France and its so-called 'overseas territories' between 2015 and 2017) reveal the continuation of French coloniality nowadays in the violence it deploys on the same bodies. From French military "regrouping camps" in Algeria to the banlieues police stations on the one hand, and from Algiers' Casbah to the Indigenous Kanak barricades on the other, this research focuses on the spaces and architectures that materialize or challenge the French colonial continuum.

open lecture: JESSE WEAVER SHIPLEY Performing Revolution: Remaking Sovereignity and Political Imaginaries in a Ghanaian Coup d'Etat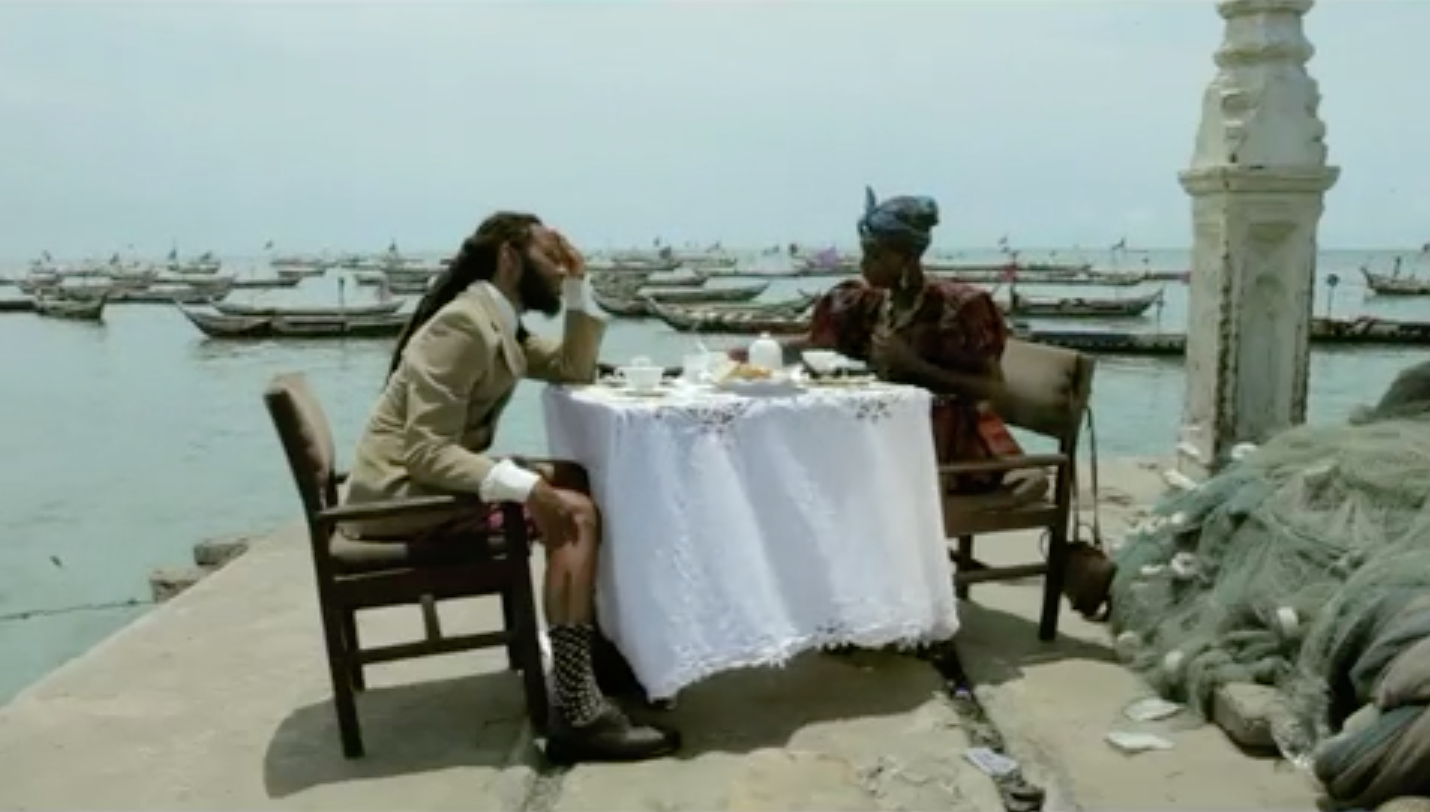 This paper examines the relationship between political power and aesthetics in the making of political transformation in 1970s Ghana. Before dawn on June 4th, 1979 soldiers freed Flight Lieutenant Jerry John Rawlings from military prison in Accra, Ghana, where he was being held while on trial for treason for staging a failed coup d'etat several weeks previously. Rawlings and the soldiers immediately took over Ghana Broadcasting House which had the sole national radio transmitter. As the sun rose, Ghanaians awoke to hear Rebellious fighter pilots flying low over the city and then tuned I. To listen to Rawlings's raw, passionate voice broadcasting on radio. He began: "The ranks have just gotten me out of my jail cell. . . They have taken over the destiny of the nation." A few hours later, government forces retook the radio station and announced that the rebellion had been quelled. Ordinary citizens shuttered their windows and anxiously tuned in to their radios to find out whether the government or the rebels would succeed. Over the course of 36 hours, various rebellious factions and government troops made announcements and counter announcements aimed at convincing their allies and foes that they were in charge. This paper explores how the performances of political power shape sovereignty and rule. If we understand aesthetics and affective we can more fully grasp how violence is mobilized and understood.
Film screening:
This series of short conceptual films set in the near future in West Africa link historical memory to the body and to technology. These films are forms of portraiture that play with narration, image, and sound to challenge how we tell stories about political and personal transformation. The films explore practices that are about violence, resistance, repetition, and memory from slave trade to boxing to computer hacking. There will be time for discussion between each short film.
Set in the near future and in 1836. A man and a woman meet for tea on the extreme edge of Accra, Ghana, on a shipping pier jutting into the Gulf of Guinea. They do not know where they are or who they are. They do not know how they got there. They do not know each other. They start to remember themselves. This piece explores the circularity of time and the contingencies of history. It raises questions about the malleability of mind, spirit, and emotion and their tenuous relationships to bodies. As individuals struggle to have their own stories and agencies, they are also pulled into alignment with forces of history that become clear only in their disappearance. The two channels in English and in Ewe, Twi, Pidgin, Romanian run simultaneously. Directed by Jesse Weaver Shipley with Wanlov the Kubolor, Awusi Michell, Rodney Quarcoo. 2014
one day workshop: PELIN TAN the entanglements through transversal installations in art & architecture
Pelin Tan is a sociologist and art historian. She was a researcher at the Institute of Social Sciences, Istanbul Technical University, Istanbul (2001-2010); and as a research fellow at the ACT program of the Department of Architecture – School of Architecture and Planning, Massachusetts Institute of Technology (2011). Concluded her Phd on "socially engaged art in urban space" and her post-doc research on "methodology of artistic research" under Prof.Ute Meta Bauer. Tan is an associate professor at the Architecture Faculty, Mardin Artuklu University, Mardin, Turkey.