Today, if you type 'Marble Arch' into your search bar, you will see a different story being projected on your screen. The island upon where the grand structure was placed is now 'basecamp' for Extinction Rebellion.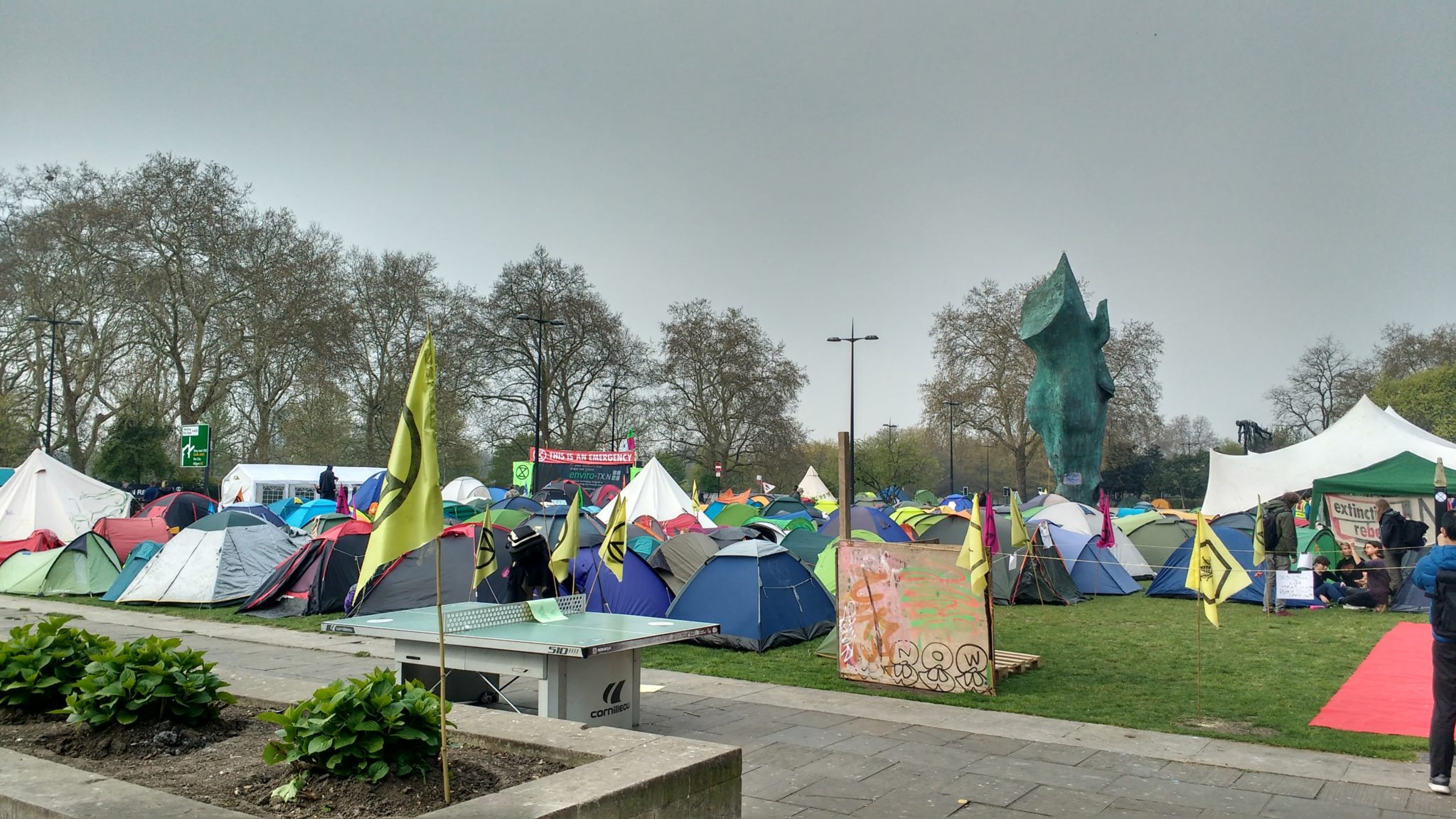 There are at least three narratives that are converging at Marble Arch: the nationalist, the neoliberal and the rebellion.
Writing about the Eiffel Tower, Roland Barthes expresses that there is a double movement: "architecture is always a dream and function, expression of a utopia and instrument of a convenience." (Barthes and Martin, 2011) Completed in 1833, Marble Arch was a gateway to Buckingham Palace for 17 years till it was relocated in 1851 to its present position. Like the Eiffel Tower, Marble Arch was built to be more than just a gateway, it was a trophy, a representation of a British utopian dream.
"Marble Arch was designed to be both a grandiose gateway to an expanded Buckingham Palace and an exuberant celebration of British victories in the Napoleonic Wars – a Triumphal Arch."

Marble-arch.london. (2019)

The historian Linda Colley has argued that British identity was forged in the early 19th century. Marble Arch was a public declaration of that identity and played a part in "shaping the feelings of community and the construction of an inside/outside distinction, framing national identity in terms of a story about history". (Bell, 2003)

The nationalist narrative (engraved into the stones of Marble Arch) and the neoliberal narrative (defined by control and surveillance) are being countered by that of the physical embodiment of the space by Extinction Rebellion.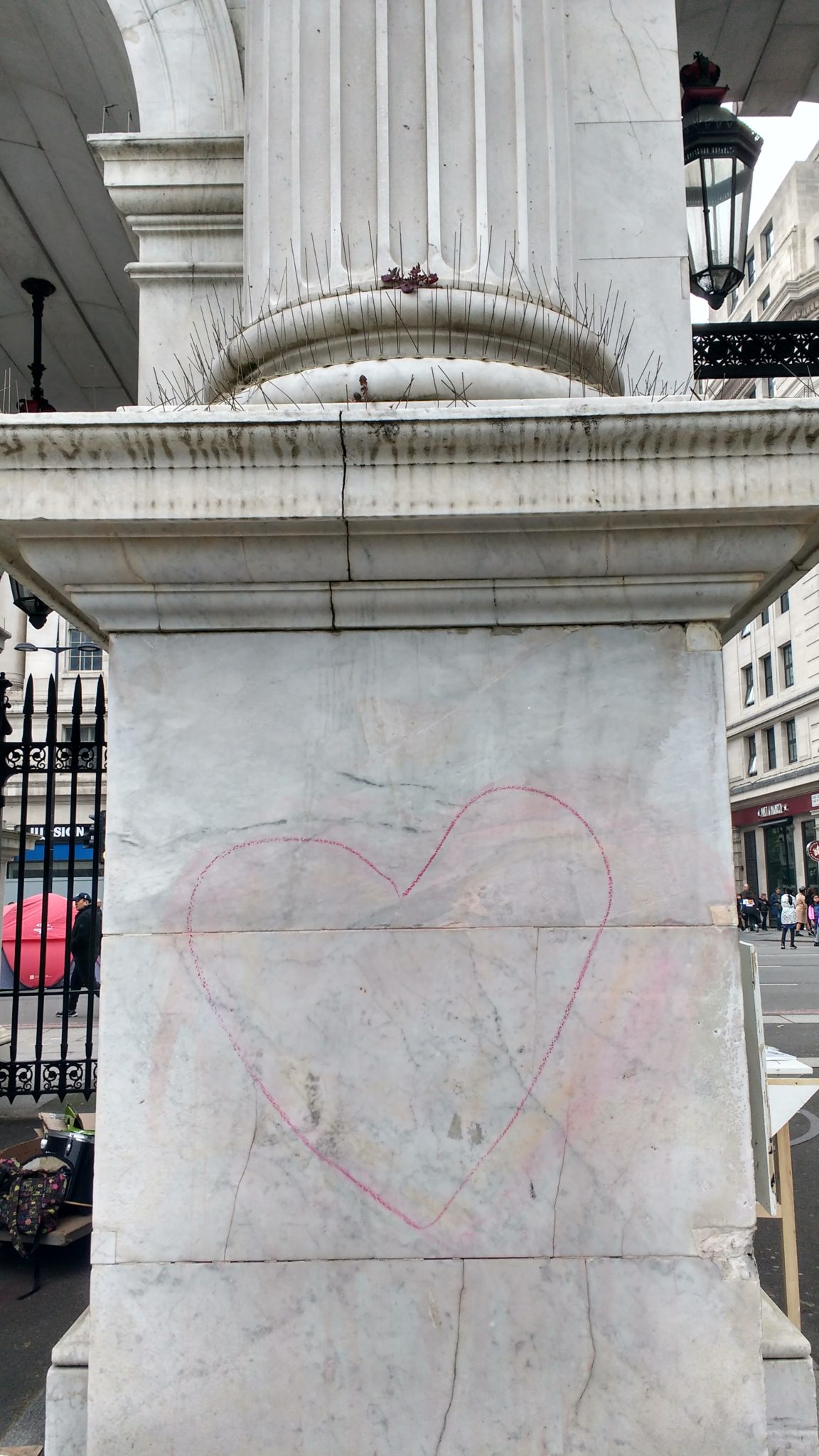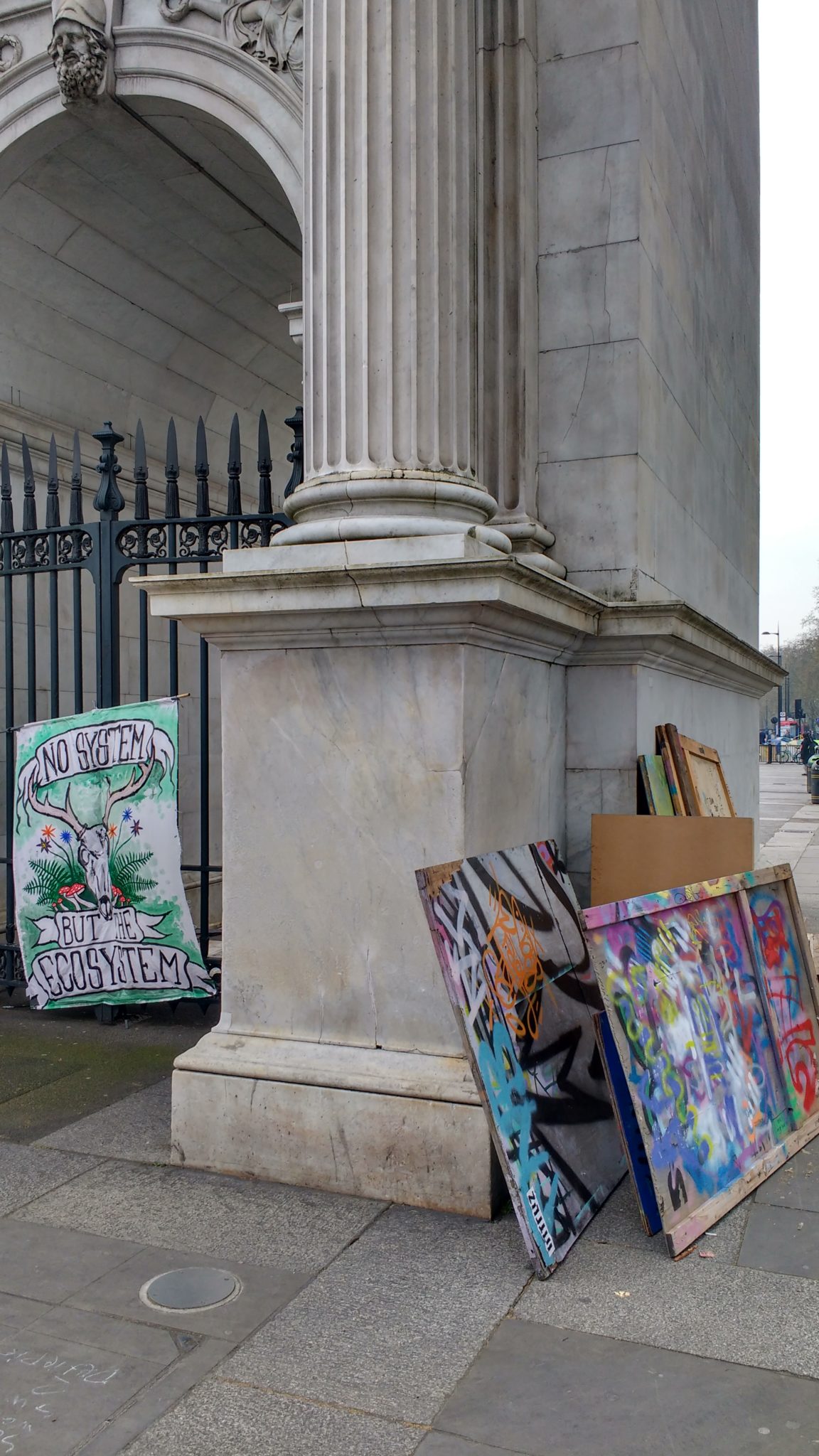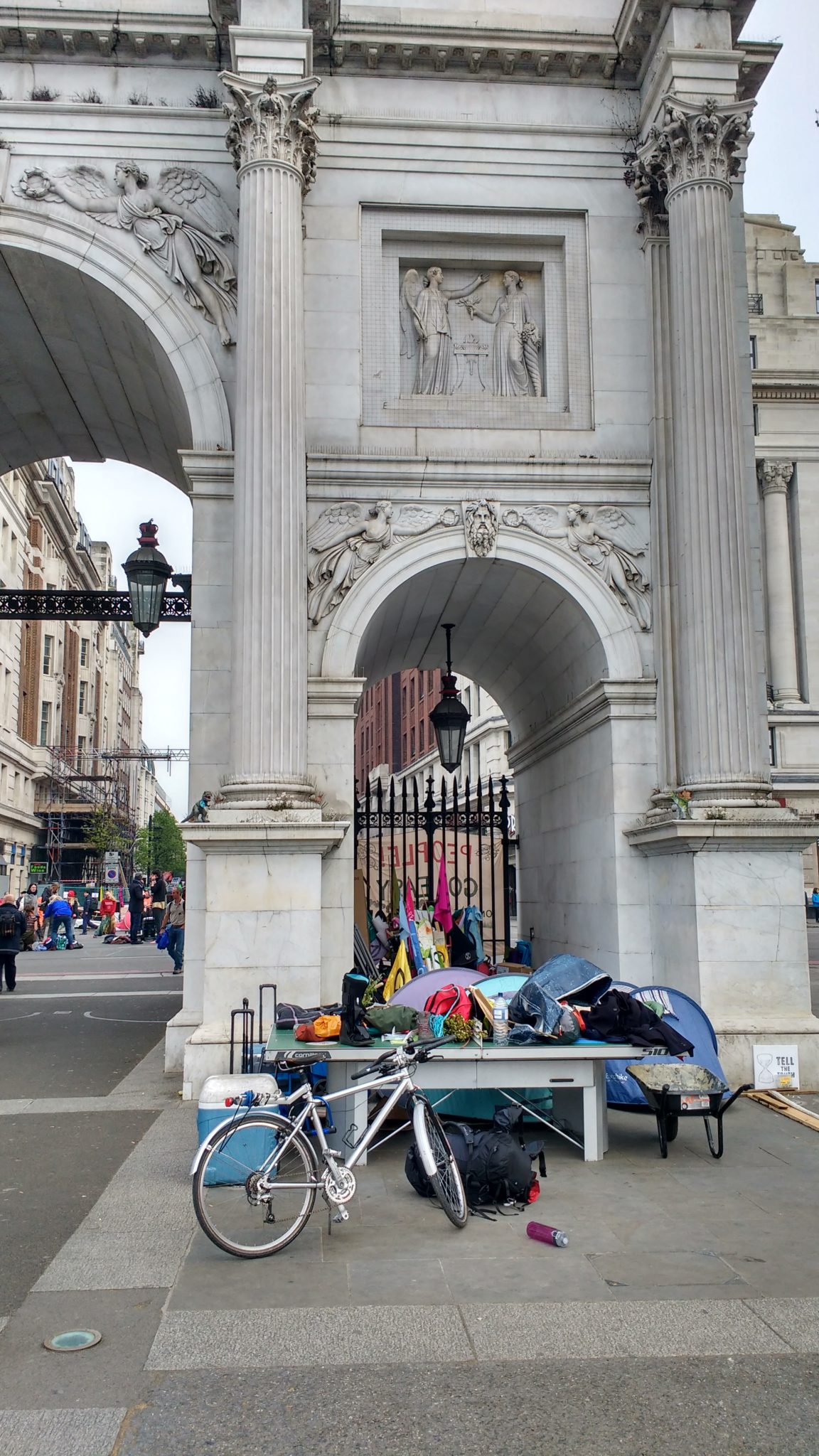 "The social construction of space is the actual transformation of space – through people's social exchanges, memories, images, and daily use of material setting – into scenes and actions that convey symbolic meaning".

(Low, 2009)
As these people dwell, they are creating memories, images are being taken and as they brush their teeth on the pavement, daily habits are being conceived.
We are witnessing a social reconstruction of the area around Marble Arch.
We are feeling it – a space that has for so long declared a nationalist agenda and been governed by a force of neoliberalism – is now being disrupted by a new narrative.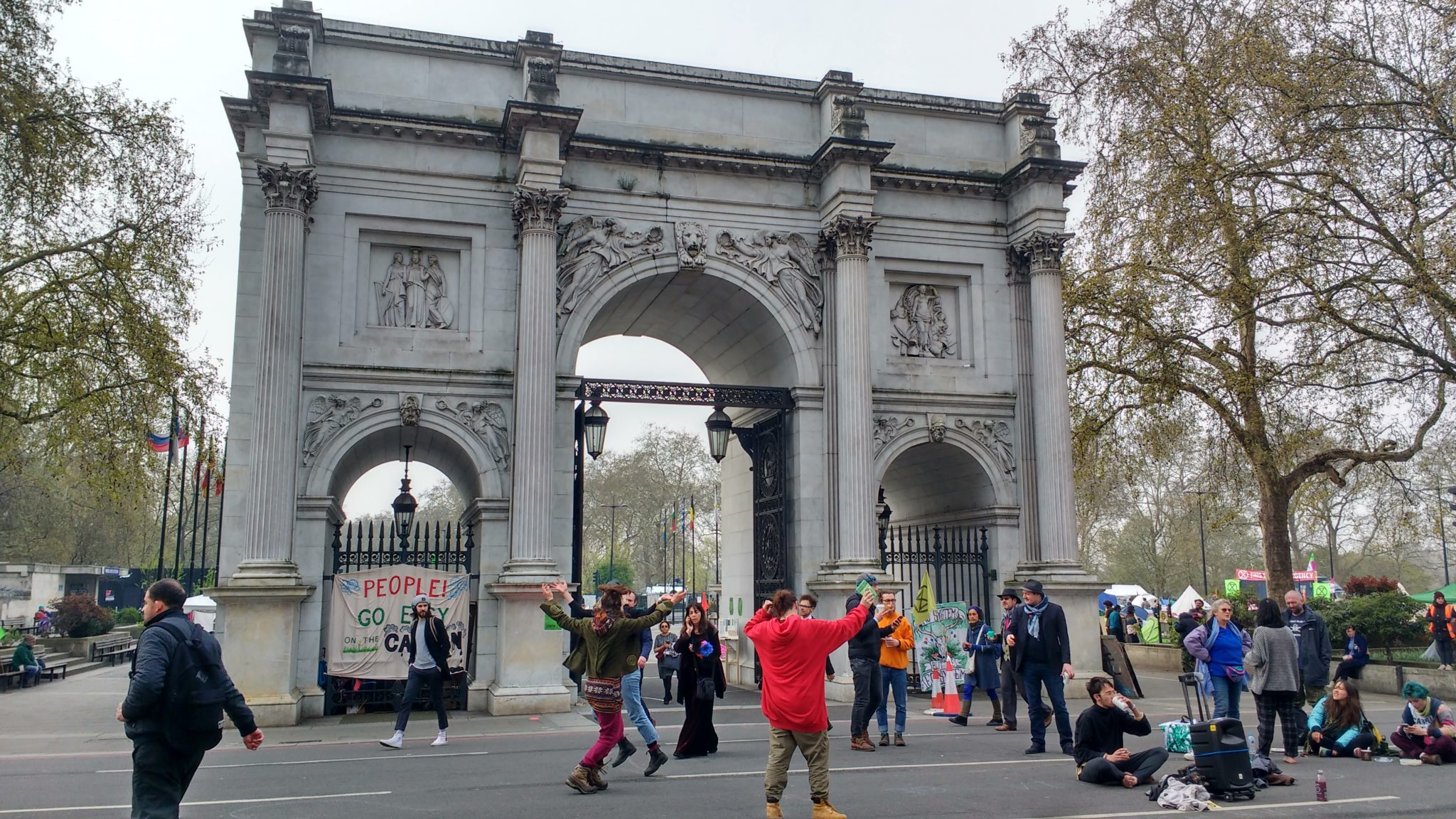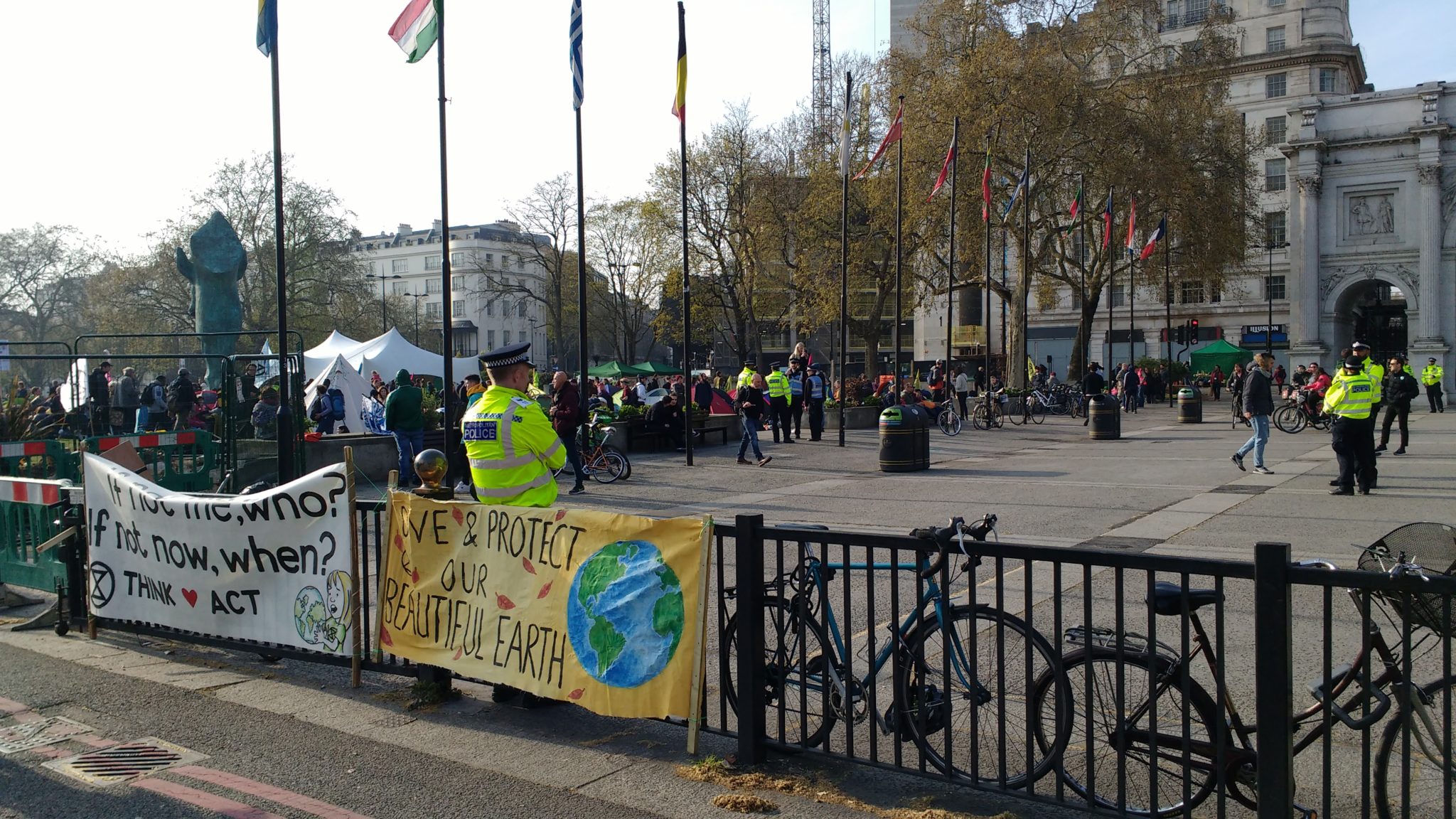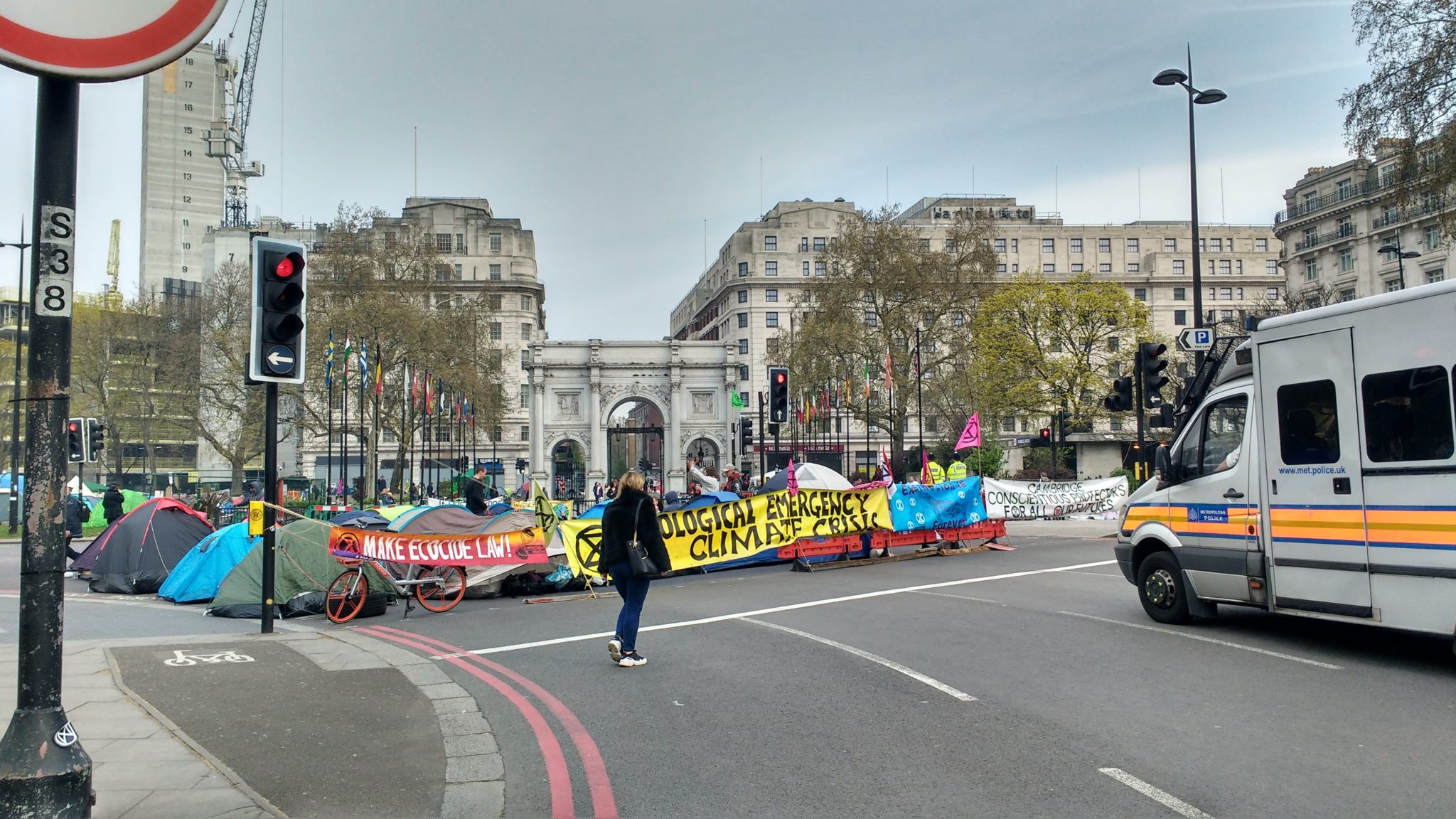 Barthes, R. and Martin, A. (2011). La Tour Eiffel. [Paris]: Seuil.
Bell, D. (2003). Mythscapes: memory, mythology, and national identity. The British Journal of Sociology, 54(1), pp.63-81.
Extinction Rebellion. (2019). About Us – Extinction Rebellion. [online] Available at: https://rebellion.earth/the-truth/about-us/ [Accessed 16 Apr. 2019].
L. Colley, Britons: Forging the Nation, 1707-1837. (Yale University Press, 2005).
Low, Setha M. (2009). Towards an anthropological theory of space and place. Semiotica 2009 (175):21-37.
Marble-arch.london. (2019). The Story of Marble Arch. [online] Available at: https://marble-arch.london/marble-arch-story/ [Accessed 16 Apr. 2019].